New Year's Eve has always been a special date in the clubbing calendar. This year it happens on Friday which probably means even better parties:-)
I will take an early start to th celebrations with quite a special gig on Thursday. I'll be playing at Jenny Woo's Drag Attack event where the concept is that Tatu, who runs the night, will do a complete drag style and make up for the guests. And from what I've seen they've been absolutely amazing/hilarious/beautiful! For the reference just check out these pictures from the opening party with Mr.A: http://www.kctv.co.uk/events/dragattack/. So lets see who I will become and also if the music changes too – I think so;) Party starts at 22:00, playing are myself, Tatu and Antti Walker and like many best things in life – it's free!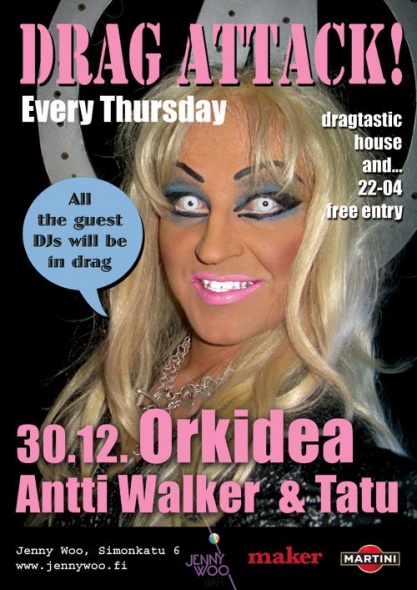 On New Years Eve I'll be playing the end-of-the-night set at Clinic's big NYE event in Tivoli. The line up is looking musically quite varied with Super8 & Tab, Orion, Milla Lehto, Paul Easy, Visions DJs, DNA and Zwek all playing in three rooms. And after Clinic's sold out Above & Beyond event last month, I am expecting this to be rather packed too. The main room will have the Funktion One powered Battery Sound System and one of Finland's top LJs UzU is doing the lights so it looks like a solid night out in Helsinki. I'll be playing from 01:00 until 03:30 and the set will most likely be combination of uplifting progressive house, some big room techno and quality trance. Facebook seems to be having some weird problems with events (many people not seeing the events) so here is link to event info at Klubitus: http://klubitus.org/tapahtuma.php?id=20459
And the one thing that seems to be unique with New Year's Day is that the afterparties have always been really crowded. Back in the day in Lepakko and Nosturi the Illusions parties were always having close to 1000 people on NYE while our last New Year's Day's 23h event in Redrum had 1600+ people visiting throughout the morning, day and night. The 2011 clubbing year kicks off at Playground where the morning parties have been getting stronger and stronger especially after the facelift that was done this autumn. The lineup is a solid collection of the tried and tested afterhours DJs from Paul Easy to Unik, Flink and Milla Lehto. The former Beatroot bar (nowadays Isoroba10) will also be in use as chill out space with drS, Sheep & co chilling you out during the morning hours. Here is link to the full event info in Klubitus: http://klubitus.org/tapahtuma.php?id=20524
It's been amazing year and I'm truly thankful for all the family members, friends, colleagues and random people that have made 2010 the rollercoaster ride of positive events and vibes that this year has been. More detailed review of the year coming up during the following days… Hope to see you on the dancefloor during the next 48 hours!